One of the main reasons I had to upgrade the blog software was blog spam. You might have noticed I shut down comments entirely about a week ago. Well, I was getting up to 100 blog spam posts per hour. I had implemented database triggers that I found via NetNerds.Net, thanks Chrissy. But they were no match for the relentless assault I was enduring.
As I just mentioned, I'm now on Subtext and they have implmented ReverseDOS from AngryPets. The way it works is you have a file full of regular expression keywords and their DLL gets hooked up as an HTTP modules in ASP.NET, so whenever any incoming requests come in, the filtered list gets queried, and if there are any matches, the component actually hangs the connection on purpose, tying up the spammers resources and eventually returning a 403 error.
Now, instead of just deleting the spam when it reaches the database, I'm killing it before it even reaches the server and on top of that we are fighting back. The DOS part of ReverseDOS is for Denial Of Service.
I do have a suggestion for the team though. It comes with your standard keywords for blog spam, which involve pharmacetuical drugs, casino games, etc. But I have had to add maybe 30 keywords/sites in the last 24 hours and I suspect I've got to continue this for a few weeks until the spam subsides enough to really declare victory. Well, I know I've mentioned Cloudmark before, my choice for email spam removal. It works by building a network of people, so that if a certain number of trusted users blocks a piece of spam, it is blocked for everyone else. This has worked incredibly well for me, and I'd love to see something similar for ReverseDOS.
So in that spirit, I created a wiki to share config files. Check it out at reversedos.pbwiki.com. The password is "poker".
This blog started life out as .TEXT 0.95. The people who made it decided to turn it into Community Server, a blog+gallery+forum package and released version 1.0, oh about two years ago I guess. I tried at the time to upgrade then, but there was a number of problems with 1.0 and I decided to wait. CS is now a mature product, but the .TEXT migration is an afterthought for the developers at this stage. The deal breaker for me was not being able to easily keep the same URL format. I absolutely did not want to break links that are already out there. The research I did said I needed to create complex regular expressions and URL mapping which I was in no mood to tackle. I posted on the CS forums for help and even offered $50 to anyone that could walk me through what I needed to do. I was ignored.
Fortunately I was already reading Phil Haack's blog and he is leading development of Subtext, a fork of the original .TEXT project.
So I moved to Subtext. Much much easier. I'm happy so far. The project is being actively developed, the focus on simplicity and blogs is appreciated. I promise to stay current this time. I apologize if your RSS reader reset the feed and you got 20 new posts which are actually old posts. I'm still working on fine tuning the skin and settings, let me know if you see anything wacky.
Remember the whole episode when Sinead O'Connor tore up a picture of the pope on Saturday Night Live? During the performance you can tell watching it now she knew more or less there was a shit-storm ahead of her. She performed the Bob Marley cover War acapella and she's clearly nervous, breathing heavily throughout. But the thing is there are moments of greatness in the performance. And better yet, there is a low-bitrate copy out on the net of the rehearsal version that captures a better, more relaxed Sinead. It remains one of my favorite one-off songs. Here's the video of the live performance on YouTube: http://www.youtube.com/watch?v=Pn5uY9etyEo
I was delighted to find that she released a whole album last year of reggae covers called Throw Down Your Arms. It seems that she did it pretty authentically, using Sly and Robbie as producers, recording in Jamaica and using local musicians. The thing is really nice to listen to, breezy, great for multiple listenings. I am generally a big dancehall and reggae fan, but I haven't really been turned on by anything new in a long time.
The new Gnarls Barkely album has sparked a resurgence in my day to day listening of alternative-indie stuff (is that a real category?). This week I've got the new DJ Shadow, new Outkast, Herbert (Matthew)'s Scale, TV on the Radio, Mylo, and Lady Sovereign going in my headphones.
[First post with Windows Live Writer]
tags: sineadoconnor, music, snl, reggae
Newsgator manages 396 RSS feeds for me. I have been using Newsgator Outlook Edition from back when it was the only product they had, at least a couple years now. I had always been happy with my workflow with this setup, I was able to set up Outlook search folders to group things in clever ways and streamline my reading. Everything was neatly searchable, flags and categories worked across email and RSS, fantastic. However, with the aforementioned issues with Outlook 2007 beta, plus a couple of new ones involving our ancient corporate proxy servers, it was taking me too long to make my daily rounds of feed reading.
So again, in a temporary/interim solution fix, I went ahead and downloaded FeedDemon, which is now integrated with Newsgator's online synchronization engine and I was already licensed for it.
I'm really happy I did. My workflow (daily reading) is so much faster now — so much faster. The client itself is lighting fast. There are five different reading "styles", and once you've done the work of assigning particular styles to specific feeds and/or folders of feeds, the time it takes to scan "scannable" feeds just plummets.
The feed read status synchronization across machines is near perfect for me. Caveat: I only keep on instance of the application open across my three machines at any given time, I don't know what happens if they are all still running, but from things I've seen in the forums this is less than recommended. It was almost a deal breaker that nothing besides the feed data itself is synced, but this is to be expected because the program was designed and built before it had been acquired by NewsGator and I understand that work is underway to sync settings and especially the saved articles called "news bins". I'm having trouble also figuring out how to expose the data to a desktop search tool, something I'm really missing right now.
It has changed my behavior too, I hate to say it, but if your blog isn't on my "must read" list and it doesn't have any pictures, I'm much less likely to read it word for word. And people, if you feed is partial text I'm going to email you, ask for full text, give it a week and unsubscribe.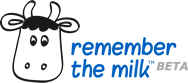 I mentioned a while back I mentioned that I was using Office 2007. I have also mentioned that I use Plaxo to keep all my tasks (and calendar and contacts) in sync between home and work and laptop. Seems Plaxo isn't 100% compatible yet with the new task style in outlook 2007, and who can blame them, it is only in beta 2 at this point and there are still many rough edges.
So as a temporary measure, I decided to try an online todo list, and via TechCrunch I tried Ta-da Lists, found it lacking, and then went for Remember The Milk.
A terrible name to be sure, but quite I like it. First off, they have one of the best Ajaxy signup pages ever, it tells you in real-time (as you type) whether your login name is taken and whether your password meets their requirements or not. The features match what I was looking for pretty succinctly. There's even a comprehensive list of keyboard shortcuts, some of which are damn near required — changing task priorities without the handy 1,2,3 shortcut is inelegant. Check out the list of reminder options: Email, Google Talk, AIM, GaduGadu, ICQ, Jabber, MSN, Skype, Yahoo, plus a crud-load of mobile providers.
Anyway, this will work really well until Outlook 2007 goes RTM. Chances are I won't stick with this just because I really love the way you can flag messages in Outlook as tasks. So much of my tasks start out that way anyway.
Something has been irking me during this heat wave. My office is always a little too warm, 79 degrees at the moment according to my desktop thermometer, it has been known to hang out around 82 in the afternoons. Because of this, everyone has those little desktop fans going full speed constantly.
Let's revue what fans actually do, a) they blow air from a cool part of the room to another warmer part, which does not apply at all in our situation since we're all sitting in the same air and b) air blowing on you feels cooler because of the way the skin works, with sweat evaporating off you, and whatnot. But with a) not in play, and b) if you aren't in front of the fan, it is nothing but a little heater, the electric motor puts out heat and increases the ambient temperature.
At the end of the day I go around and shut off everyone's fans after they have gone home. !!
Not to mention the folks that turned off their XP power management, so the monitor stays on 24/7 or the circa 1997 Matrix screensaver, that causes the CPU sensitive computer fan to spin up to 100% and pump out hot air all night long.
Traveled with Emily as her assistant on a magazine shoot. Assisting means schlepping incredibly heavy and bulky camera equipment through the airports, and trams, and buses and cars, and a few minutes of following "set up the light here" orders.
First stop was Phoenix Arizona. Did one of those sit on the tarmac for three+ hours, go back to the gate, no more flights until the morning, leave the bags at the airport, take a cab home, sleep for a couple hours, and come back deals on the way there, but it was smooth sailing from then on.
Have you heard of these "cities" in Arizona: Scottsdale, Tempe, Mesa? I had and assumed they are real places, but it is a fraud! It is all Phoenix, they just split it up so it would sound like Arizona had more cities than it really does. There are only two cities in that state, Phoenix and Tucson. See for yourself.
Nomenclature aside, it was a great visit. The terrain really does have that rugged desert thing going on, big red rock formations, giant cacti, etcetera. We dined on In N Out burgers and I had just had a Shake Shack burger the week before, so I am in a good spot to make a comparison, and while I don't usually like pitting foods against one another this way, because I feel that they each have unique qualities that deserve their own attention, time and place — if they were sitting right next door to one another, all things being equal, I'd have to pick In N Out. I think it is the fresh onion that tips the scale for me. Had the best carnitas of my life, and I am something of a connoisseur of this Mexican braised pork dish. It was a short visit so we didn't really do anything touristy except eat and drive karts at the country's largest indoor European style karting track. The world championships were the next day, so they had their two 1/4 mile tracks combined into one.
Next up was Maryland. We had an afternoon free, and chose to spend it in Annapolis, with exactly zero fore-planning. Turned out great, they have a really great little setup over there, there's water all around, and a very walk-able downtown area. They had Segway tours, which would have been perfect if we had more time. Obviously I wanted to get some crabcakes, and the local establishments all knew that was exactly what people wanted because they were between $25 and $40 everywhere including the pubs, a crabcake sandwich was a delicious reasonable substitution for lunch.
Remember when the driving was free? I mean, you had to buy or rent a car, pay for maintenance, and occasionally fill it with gas, but at no point did you ever compute trips to cash, there was no sense of incremental charges. Well, not anymore. An afternoon driving to a different town for lunch cost us $23 in gas (Alamo only had SUVs left).
Google Maps Mobile has good driving directions and now live traffic updates as well. If you pay attention (I recommend a co-pilot) it works as a great poor man's GPS system. It will step you through the turns one at a time, you just have to pay attention to the car's odometer (trip-ometer?) to keep track of distances. To get it go to Google.com/gmm on your phone or Blackberry.
The picture is another Sven job. He stands in for the models to test the lighting and whatnot.